32" X 48" Spilltration Husky Oil Absorbent Rug Product Sheet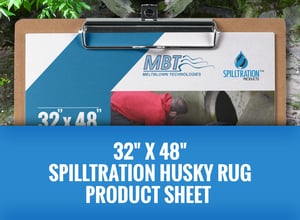 Spilltration Husky Rugs are laminated with a sturdy plastic backing to prevent oil from leaking through. Best of all, the Spilltration Rugs allow
rain water to filter through.
Our rugs are recommended for:
Hydraulic Fluids
Transmission Fluids
Diesel
Motor Oils
Lubricants
Other Hydrocarbons
Oil Sticks. Water Wicks.
Download the product sheet to learn more about our 32" X 48" Spilltration Husky Rug.